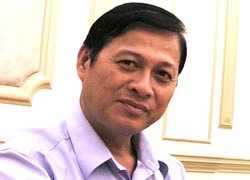 Mr. Mai Quoc Binh
The Government Inspectorate's Anti-corruption Department will start its activities with inspection in corruption-prone areas such as infrastructural construction, public property management, finance and banking, and State-funded projects, the department's chief said.
Mr. Mai Quoc Binh, also deputy head of the Government Inspectorate, told Sai Gon Giai Phong newspaper that his anti-corruption department, with its functions, is supposed to report to the Central Anti-Corruption Committee and the Government.
He added that his department would work closely with the police and the anti-corruption section of the People's Supreme Prosecution Bureau. Therefore, inspectors in action come from the three sides, and they will report to the Prime Minister and the Central-Anti Corruption Committee to begin prosecution immediately.
Mr. Binh said his department would start its duty this December.
"We are setting up an information center on fighting corruption to process information from ministries, State agencies, cities and provinces. We planned to open five representative offices for the center at different regions. The offices will collect information from phone calls, letters, written documents or face-to-face meetings.