On May 11 the Government issued a resolution applying very specific measures to support business groups during the present difficult economic period.
The new resolution is expected to help ease the pressure on businesses that are struggling to survive, through policies such as extending payment deadlines on VAT and income tax, reduction of land taxes, and making it easier for businesses to access loans.

The ministries and other relevant organs are required to implement a series of urgent measures to support businesses and recover the declining markets.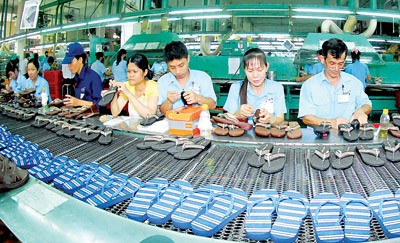 Bitis, specialized on footwear products is one of the businesses that benefit from the nine-month extension for income tax (Photo: SGGP)
This direction was outlined in the Government cabinet meeting earlier this month, as the economic experts referred to the resolution as a support package, a kind of "economic stimulating package".
A six-month extension for VAT payment for this year's second quarter has been granted for two groups:
Category A includes small-and-medium businesses excluding lottery, stock, financial, banking, insurance, businesses and firms under big state corporations.
Category B includes businesses that employ large numbers of labourers in production and processing of agriculture, aquaculture, textiles, footwear, building infrastructure and electrical equipments.
The Government has also decided to reduce land rentals in 2012 by 50 per cent for businesses in commerce and services, and allow a 12-month extension for investors of projects that are in financial difficulties.
In addition, the Government has also authorised the ministry of Finance to realise a nine-month extension for income tax backdated to 2011 for firms classified in the above two categories and those involved in mechanics, sea transportation, steel and cement production. The resolution also exempts 2012 registration taxes for sea fishing and salt making households.
The resolution also calls on the State Bank of Vietnam to implement resolutions for restructuring debts and other necessary steps to support businesses struggling to access loans, to mobilise VND 2,000 billion as supplement capital to develop rural infrastructure such as irrigation networks, pumping stations, and roads across the rural country side.
According to the resolution, the Ministry of Finance would also petition the National Assembly to consider exempting individuals and households that rent out houses and sell meals for workers, students and labourers, in addition to childcare facilities, VAT, personal and business taxes in 2012.