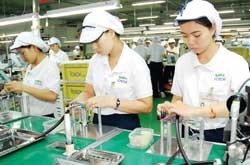 Nidec Tosok workers at HCMC's Tan Thuan Export Processing Zone
The Vietnamese labor ministry has recently proposed a plan to raise salaries in the private sector of Ho Chi Minh City among foreign-invested enterprises in an effort to tackle rising strikes triggered by rising costs.
Doctor Nguyen Manh Cuong, head of the ministry's Department of Labor Relations, said the plan is based on voluntary negotiations between laborers and trade unions.
Under the plan, the HCMC Trade Confederation will investigate rising living costs, labor supply and demand, and general income, after which it will propose an appropriate salary for businesses. The salary proposals are suggestions only.
Cuong said the plan needs joint assistance from the city government, the Vietnam Chamber of Commerce and Industry (VCCI), and the International Labor Organization.
But Nguyen Thi Dan, head of the city Department of Labor: Invalids and Social Affairs' Wage Section, questioned the plan's success.
"Which organization is competent enough to represent laborers in negotiating with enterprises, and at which level?" she asked the press.
The Vietnamese government recently rejected a proposal to raise minimum wage after hiking salaries for workers at foreign-invested enterprises by 39-47.9% early last year.
Even if the government agreed to the new increase, any raise obtained would be negligible considering the cost of living in HCMC which is the highest in the country, experts commented.
Also, salary hikes for city's foreign-invested sector alone, which has been suffering from the worst strikes, is not feasible since Vietnam has already created a roadmap to unify minimum wage across the nation under WTO commitments.
The need to increase salaries in the city comes from rising CPI and rising demand for certain labor which has already outstripped supply, said Dinh Kim Hoang, HCMC labor department's vice director.
If we do not raise salaries soon, the risk of massive strikes late this year is extremely high, he added.