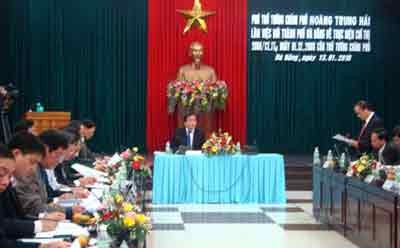 Deputy PM Hoang Trung Hai applauds Da Nang's efforts to keep the prices stable at a meeting with the province
The government has called on provincial and city administrations around the country to ensure food hygiene and safety are scrupulously observed during Tet (the lunar New Year) next month.
In a dispatch, it directed people's committees to adopt stringent regulations for businesses selling meat and aquatic products and monitor their distribution at wholesale and other markets.
It instructed chairpersons of people's committees to liaise with the Market Management Bureau, police, and border guards to inspect imported foods and keep out smuggled foods, especially those without clear origins and failing to meet hygiene standards.
Deputy Prime Minister Nguyen Thien Nhan signed the dispatch.
Meanwhile, Deputy Prime Minister Hoang Trung Hai January 13 praised the Da Nang People's Committee's efforts to keep the prices of 19 essential items stable during the New Year for the benefit of the poor.
Da Nang has held  some retail shops city to sell goods at reasonable prices.
The city has bought 800 tons of rice at VND6.2 billion (US$ 335, 000) to donate to the poor for Tet.
Mr. Hai asked the city authorities to take care of families that come under welfare schemes, heroic mothers and their families, veterans and martyrs' families, and those affected by natural disasters.
The legislative commission of the Ho Chi Minh City People's Council heard a report from the city Market Management Bureau about its plans to monitor the market during Tet.
Le Xuan Dai, deputy head of the bureau, said his officers would crack down on illegal activities like speculation and gouging at large markets.
Market officials would keep an eye on bus stations and warehouses for fake and smuggled goods.