The Ministry of Agriculture and Rural Development is drafting a national program for rural development that aims to reduce the poverty rate and raise rural incomes.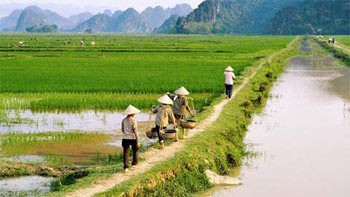 The Government is drafting a national program to increase the incomes of rural residents by 2015
The Government targets having more than 20 percent of the country's nearly 10,000 communes reach the new development standards envisaged in the program, raising rural incomes by half, and reducing the poverty rate to less than 8 percent by 2015.
 
For 2020 these figures are 50 percent, two times, and less than 3 percent.
 
The program comprises 11 projects – including development of rural socioeconomic infrastructure, eradicating hunger and alleviating poverty, and providing education and training.
 
It is estimated to require VND120-150 billion (US$6.6-8.3 million) for each commune.
 
Deputy Prime Minister Nguyen Sinh Hung recently approved a project to develop small- to medium-sized electricity-operated water pumping stations in the Mekong Delta.
 
By 2015 all pump stations will be run on electricity. By then, there will be 3,120 stations supplying water to 658,000 hectares of rice fields and 6,000 hectares of aquaculture farms.
 
The project is budgeted at VND1.8 trillion (US$100 million), VND1.2 trillion (US$66.6 million) of which will come from the provinces' coffers and the rest from enterprises, cooperatives, and individuals.