The Prime Minister has ratified the national target program for employment to the year 2010 to secure work for the nation's people.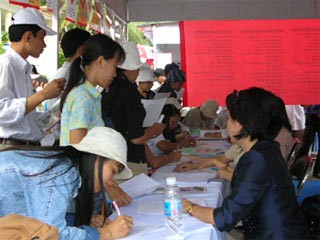 Young people fill out job application forms at a job fair in Ho Chi Minh City
The primary targets are continuing employment for 49.5 million people and creating 8 million new jobs.
 
Its budget of VND5,985 billion (US$374 million) includes a fresh sum of VND2,295 billion (US$143 million) from the central budget for making loans and creating jobs.
 
Some of the money will be channeled through the National Assistance Fund and lent at low interest to the unemployed and underemployed, family businesses, small and medium enterprises, farmers and vocational villagers to provide jobs for 1.7-1.8 million unemployed young people.
 
The fund will also be used to find new job markets and help 400,000 to 500,000 people work abroad by paying part of the interest on the loans they must take out in order to apply for such work.