Prime Minister Nguyen Tan Dung said the Government would adopt resolutions to intensify efforts to reduce poverty and to step up the fight against corruption.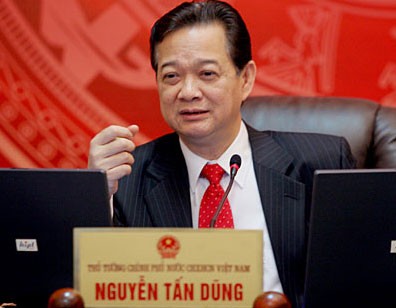 PM Nguyen Tan Dung
He made this confirmation at a meeting with government ministers in Ha Noi on Nov. 18, which saw the Ministry of Labor, War Invalids and Social Affairs (MoLISA) present a plan outlining mechanisms, policies and supportive solutions for poverty-stricken districts until 2015 with further orientations until 2020.
According to the MoLISA, there are 61 districts in 20 provinces possessing more than 50 percent of households suffering from poverty while the national rate is 18 percent. Of those districts, with a total of approximately 480,000 households, 16 districts have more than 70 percent of households living in poverty.
The plan aims to reduce the number of poor households in those districts to less than 40 percent, in line with current standards, by 2010.
The Government's Chief Inspector, Tran Van Truyen introduced a draft national strategy on the prevention and control of corruption until 2020, with the aim of creating a clean, strong state apparatus and a contingent of incorruptible civil servants.
The strategy maps out five groups of solutions to increase transparency in public works, monitor the exercise of the State's power, complete an economic management mechanism for a just and transparent business environment, increasing the efficiency of inspections, surveillance, auditing, investigations, prosecutions, and trial work, and raising public awareness across the board of the fight against corruption.