Human resources is one of strengths of the Mekong Delta which has over 20 million people and it should make use of this to develop itself and the country, Permanent Deputy Prime Minister Nguyen Sinh Hung said on July 14.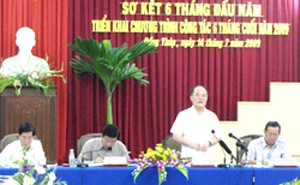 Deputy Prime Minister Nguyen Sinh Hung speaks at the conference in Dong Thap Province on July 14 (Photo: dongthap.gov.vn)
Speaking at a conference held in Dong Thap Province to review the region's socioeconomic performance in the first half and discuss second half activities, he dwelled on education, training, and healthcare.
Though the region has done well in these areas, a number of problems remain, he said.
The number of children going to nursery schools is just 5.7 percent and to preschools 59.8 percent.
The high school attendance rate is 43 percent and the number of workers getting training is 17.24 percent.
The number and quality of teachers are modest, with the difference between urban and remote areas remaining wide. Healthcare infrastructure, equipment, and personnel are inadequate and of modest quality, with most hospitals being overloaded.
Mr.Hung said the Government has programs to train 1 million workers a year and expand agriculture, forestry, fishing, and industry in the region.
For the rest of the year, Delta provinces should focus on implementing the Government's stimulus packages and social security policies to achieve the growth target of 9 percent.