The Ministry of Foreign Affairs launched a website December 3 to provide information about Vietnam's borders and territories at
www.biengioilanhtho.gov.vn
.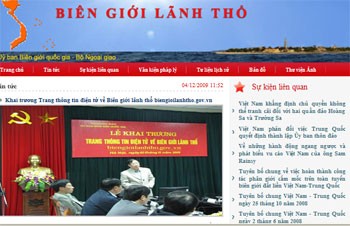 The frontpage of the website is published on Dec. 3, 2009.
Designed and operated by the ministry's National Border Committee, it contains events, articles, and historical and legal documents related to the country's sovereign territory and ancient maps drawn by Vietnamese and foreigners.
It also has up-to-date information about the conditions and environment in the East Sea.