The Government's management of the consumer price index (CPI) and inflation is disconcerting, a deputy of the National Assembly told Sai Gon Giai Phong yesterday after a NA Standing Committee inquiry session.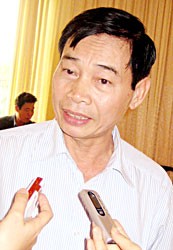 Mr. Dang Nhu Loi answers questions from the press after the NA Standing Committee inquiry session on March 29.
Mr Dang Nhu Loi, Deputy Chief of the Commission for Social Issues said that the Government was confused when managing inflation and the CPI. As a result the Government was dealing with both inflation and the CPI in the same way.
"In order to control inflation the Government issued a series of monetary policies. This is an appropriate way to manage inflation, but in order to manage the CPI, the Government needs the right monetary policies as well as good management of supply and demand because the CPI is calculated by both the value rule and the supply and demand rule", he said.
According to Mr Loi, the continuously increasing prices can not solely be attributed to the world market as Viet Nam is a rice exporter and rice prices have shot up in the country. Also, while there is not a shortage of cement on the whole, demand in Ha Noi outweighs the supply so the price is rocketing up.

Regarding the objective to stabilizing prices, Mr Loi said that the year of 2009 was just the predicted limit and in order to keep the prices stable the Government should correct the mistakes in managing the CPI, especially the prices of essential goods and services for living.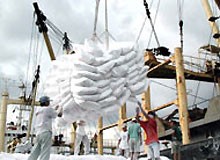 Viet Nam is a rice exporter but rice prices have shot up in the country
Answering the SGGP question about the correlation between the rising prices and fast economic development, Mr Loi did not agree with this opinion.
"I do not agree with the opinion that high growth also means high inflation and high CPI. The CPI increase relates to economic growth, but high growth does not always bring about a higher CPI. China is an example, as they have had 10-11% growth and this has not driven up the consumer price index" he said.
"In Viet Nam, the CPI reached 17.6% in 1992 but was controlled at 5.2% in 1993 despite high growth and the increased salary of Government workers. CPI was curbed in 1993 due to more sensible methods to regulate the supply-demand balance and issue more banknotes and monetary loans.