The Vietnamese Government has instructed ministries and other concerned agencies to scrupulously implement its inflation control measures.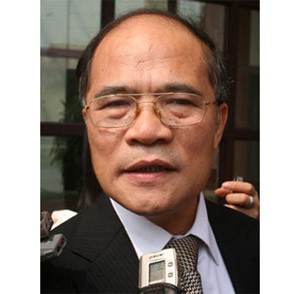 Deputy Prime Minister Nguyen Sinh Hung
Deputy Prime Minister Nguyen Sinh Hung, presiding over a meeting with these agencies on Thursday, told the Ministry of Finance to adopt fiscal policies that would ensure the state budget was balanced, use budgetary resources efficiently, check overspending, and continue the equitization of state-owned companies.

He told the Ministry of Planning and Investment to review stagnant and inefficient projects, scrapping nonessential ones and prioritizing effective ones.

The deputy PM asked the State Bank of Viet Nam to ensure commercial banks had enough liquidity but, at the same time, consider increasing their compulsory reserve ratio, and continue to issue compulsory treasury bills.
Monetary policy should be flexible while market tools like the compulsory reserve ratio, base interest rate, discount rate, and re-financing rate should be used effectively, he said.
The central bank shouldn't keep the maximum deposit interest rate at 12 percent for long, but reduce it gradually depending on the market situation, he said.
It had to cap credit growth at 30 percent but still ensure economic growth was not hampered by lack of funds, and boost agricultural and rural development, he said.

Tran Van Ta, Deputy Finance Minister and general director of the State Capital Investment Corporation (SCIC), said SCIC has drawn up a list of quality and liquid stocks which it would begin to buy soon.
Mr. Hung instructed the Finance Ministry to work with the Ministry of Industry and Trade to lower import duties in line with the country's World Trade Organization commitments, and adjust tariffs to prevent a trade deficit.
He asked the State Bank and the ministries of Finance, and Planning and Investment to submit a weekly forecast to the government so that it could tweak macroeconomic and monetary policies.