The Government has amended the 2003 Population Ordinance last Tuesday to limit couples to two children.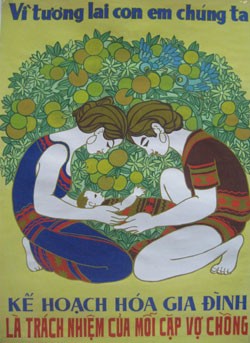 A poster of the campaign "Family Planning"
The ordinance, which did not impose any restrictions earlier, however, allows for exceptions like a woman delivering triplets.
An official explained that the government inserted the new clause to ensure people did not think they could have many children because the ordinance was silent on the issue.
Among other exceptions to the two-child rule are ethnic minorities with a population of less than 10,000; couples having a child with disability or fatal illness; and couples with stepchildren..
The amendment goes to the National Assembly Standing Committee for approval next month.
The Ministry of Health said the number of people giving birth to a third child rose by 5.4 percent in the first six months this year.