The Government is set to ban smoking in schools, health centers, libraries, cinemas, theatres, factories, offices, places facing a threat of fire and explosion, and public transport vehicles in the new year.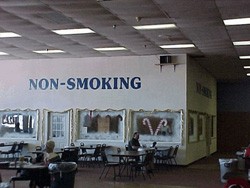 (Photo: Teambingo)
Under a Decision signed by Prime Minister Nguyen Tan Dung recently to adopt the WHO's Framework Convention on Tobacco Control, taxes on tobacco products and their prices will move up in 2010, including import taxes.
By then the Government will also finalize plans for cigarette wholesale and retail networks, starting with large cities.
After 2010 cigarettes will only be retailed at places authorized under the plan.
Selling them through vending machines, the Internet and telephone, and to people below 18 will also be prohibited.