In the April session on Friday the Government decided to deploy a bailout basket worth US$ 1.3 billion to save enterprises, focusing on reducing tax, deferring tax payment and macroeconomic management policies.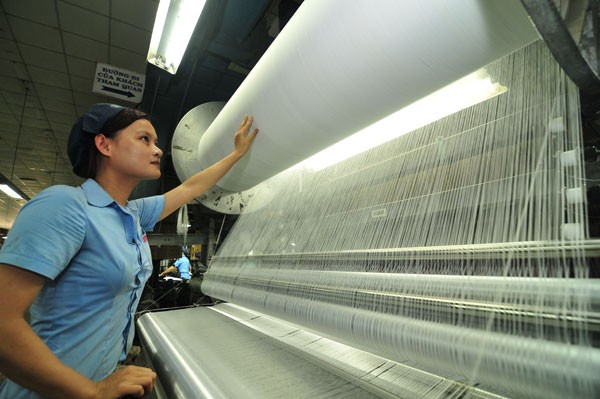 The file photo shows a worker checking textile machines at Thai Tuan Textile Company. The textile and garment companies are one of the most vulnerable in the economic slowdown.
The decision to carry out the bailout will be announced in the coming days.
The information source from the Government said that the Government would expand the list of businesses to benefit from decrease in land rent and deferring income tax payment.
In addition, the decision also refers to ways to help enterprises consume their produces, cut down inventory through promotion campaigns, bringing goods to the countryside, speeding up capital disbursement for infrastructure development and public house programs.
To help businesses in the economic slowdown the Government also reaffirmed to adjust interest rate in order to meet an inflation target set by the Government in the beginning of the year and quickly reduce deposit rates and lending rates.
In the March session the Government established a committee, including ministries of Finance, Industry and Trade, Agriculture to carry out reports on enterprises' business to find ways to help them in the economic slowdown.
The report says that medium and small enterprises make up the major in the list of those who face most difficulties. The list also includes businesses in textile and garment, agriculture, fishery, construction, real estate, building materials.
The bailout program will offer 30 percent reduce of income tax to medium and small enterprises and manufacturers (except financial, insurance and lottery companies).
The Government will also decrease value added tax in three months (April, May and June) in 6 month term, cut down land rent by 50 percent for enterprises including trade and service companies that were excluded in the previous bailout program.
According to the bailout basket, the budget expenditure will be sped up in capital construction investment, helping enterprises consume their inventory, adding VND 1,000 billion to drainage system projects.
The decision also allows the Government to use the 2011 procurement suspension budget in 2012.
The total of the bailout basket is worth VND 29,000 billion (US$ 1.3 billion). The bailout may reduce the state budget by VND9,000.
The Ministry of Finance said that it would compensate the budget deficiency by intensifying the fight against tax debts and increase in crude oil prices.