According to the Vietnam Food Association, the Government has agreed to stockpile one million tons of winter-spring rice after the Tet holiday season is over.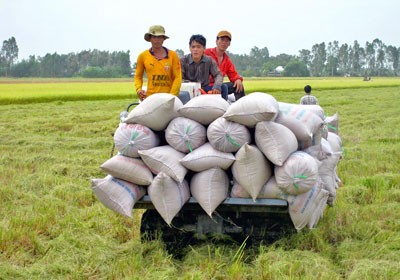 Farmers transport harvested rice in Long Xuyen Quadrangular (Photo: SGGP)
Members of the association are expected to begin purchasing rice   from February 20; however interest rates will not be as low as in previous years.
Early in January, the Vietnam Food Association had instructed businesses to buy rice at market price and not less than VND5,000 a kilogram.
Truong Thanh Phong, director general of the Vietnam Southern Food Corporation and chairman of the association, said that the peak harvest time of winter-spring rice in the Mekong Delta will fall in February and March this year--one month sooner than normal.
The Vietnam Southern Food Corporation has instructed its subsidiaries to purchase 3.8 million tons of rice immediately upon   harvest.
Mr. Phong said that farmers should feel secure because the winter-spring rice price will not fall. At present, a kilogram of rice on site purchase is fetching VND4,600-5,700 a kilogram.