Two ministries -- Education and Training, and Agriculture and Rural Development -- have instituted a program to train people in agriculture and also help 300,000 farmers improve productivity.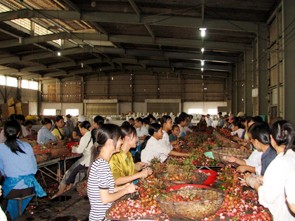 Workers in a farm produce processing factory in northern Vietnam (Photo: Nhan Dan)
The farmers will be trained to work in enterprises that grow, process, and export agricultural, forest, and aquatic produce.
The education ministry will establish a training center for the purpose.
 
The ministry will also set up this month a council made up of the heads of agriculture, forestry and fisheries faculties at universities to improve university courses in these subjects.
Besides, it will appraise the courses by March 2009 before creating new training programs and common curriculums.
In a related development, the education ministry has ordered universities and colleges to establish an agency to secure jobs for their graduates and inform it of the number who have got agriculture-related jobs by August next year.