A meeting between leaders of Dong Thap Province and Deputy Prime Minister Vu Van Ninh's delegation was held to plan the province's agriculture restructuring project by 2020 April 3.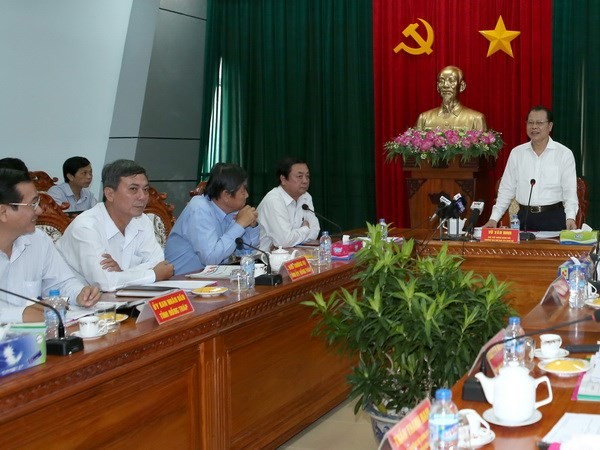 Deputy Prime Minister Vu Van Ninh work with Dong Thap Province on April 3 (Photo: VNA)
Le Minh Hoan, chairman of the People's Committee in the province, emphasized the role of businesses in agricultural restructure and the need of long-term policies for agricultural products.
The fluctuation of rice prices has affected income for farmers, according to the province's Department of Agriculture and Rural Development. Cultivation of other crops such as sesame, sweet potato, okra, pear shaped melon, lily and straw mushroom have brought more income for farmers in Lai Vung District.
Farmers are unable to expand production of these crops due to low consumption.
Dong Thap should promote local production of tra fish, rice and fruits, said Deputy Prime Minister Ninh. The province's agricultural restructure project will link farmers with businesses for better consumption.
Some models have been implemented in the last several years very slowly. Local authorities are prompted to find reasons to have appropriate solutions.
Dong Thap Province is the first province in the country to establish an agricultural restructure project.