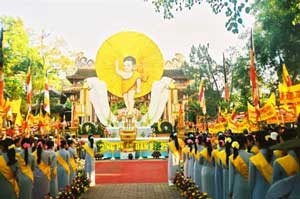 Lord Buddha Birth Annivesary in Hue in the morning of May 12
Ngo Yen Thi, Chairman of the committee, warmly congratulated Vietnamese Buddhist dignitaries, monks, nuns and followers at home and abroad.
He stressed that the Party and the State always respect and ensure people's rights to freedom of religion and belief, and continuously improve policies and laws on religion in order to better meet the legitimate needs of religious believers, helping them harmonise their religious practices with national development activities.
He also expressed hope that the VBS would continually bring into play the Buddhist traditions and promote unity for good religious practice, contributing to national construction.
On behalf of the VBS Executive Council, Most Venerable Thich Thanh Tu, Permanent Vice President of the Executive Council, expressed his thanks to the Governmental Committee for Religious Affairs for its care and assistance to the Buddhist Sangha over the past years.
He stressed that Vietnamese Buddhist dignitaries, monks, nuns and followers always unite under the motto "Religion-Nation-Socialism" and do good work for both religious and secular lives in order to contribute to national construction for the objective of "a strong country with prosperous people and a just, democratic and civilized society."

Source: VNA