The Government Inspection Agency launched its anti-corruption website yesterday, demonstrating the Vietnamese government's anti-corruption efforts, which in time will decrease corruption and thus attract increasing numbers of investors to Viet Nam.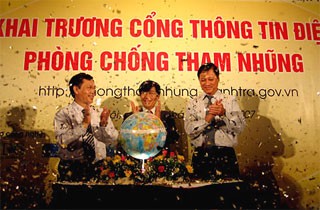 From the left: Deputy Minister of Post and Telematics Tran Duc Lai, ADB Viet Nam Country Director Ayumi Konishi and Deputy Chief Government Inspector Mai Quoc Binh at the launching ceremony of the anti-corruption website
The website http://chongthamnhung.thanhtra.gov.vn is a useful tool for gathering information from and informing anti-corruption activities to people, organizations and relevant agencies, according to the Law on anti-corruption approved by the National Assembly.
 
The website contains lots of information, legal documents and policies relating to anti-corruption.
 
According to the Government Inspection Agency, the website will have continual information updates and the agency will continue to provide topical news relating to the anti-corruption movement nationwide as of September 1.