Vietnam Railway Corporation's plan to upgrade several existing railway routes during the period 2012-2015 at a cost of nearly VND200 trillion (US$9.5 billion), has been approved by the Government.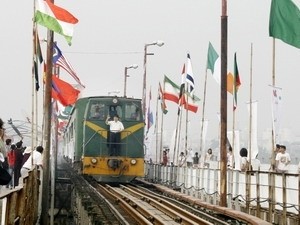 File photo
Within the next three years, Vietnam Railway Corporation will upgrade the current rail line between Lao Cai-Hanoi-Hai Phong to enable passenger trains to move at about 120 kilometres an hour and for freight trains to cover 80 kilometres an hour.
In addition, it will develop a project to build an express railway route from Hanoi to Ho Chi Minh City as well as two standard railway lines on the Lao Cai-Hanoi-Hai Phong and Hanoi-Dong Dang routes.
The corporation will also upgrade the railway route from Hanoi to Noi Bai and build a new Railway Station in Hanoi.
At the national assembly session recently, many members had queried on the quality standards of the North-South Railway line. They also proposed that the government upgrade the Hanoi-Ho Chi Minh railway route.