Prime Minister Nguyen Tan Dung has recently issued a policy to develop housing for low income earners in big cities.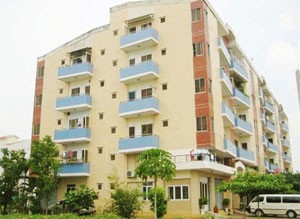 An apartment building for low income earners (Photo CAND)
From June 10, 20 percent of land for housing development projects occupying more than 10 hectares of land must be used for building houses for those on low incomes.
 
New urban area development projects are also subject to the same policy.
 
According to the policy, low income apartments will have an area of less than 70 square meters. 
 
The apartment buyer or tenant must be a civil servant, a member of armed forces or someone on a low income living in the area where the development is located.
 
They cannot have previously owned a house or be entitled to any government social welfare housing subsidies.
 
The buyer or tenant may sell or transfer the apartment after ten years and all relevant fees have been paid. If they wish to sell-up or transfer their property before the end of the period, they must transfer the apartment to the local authority, the developer or someone on a low income.
 
In an attempt to reduce apartments from slipping out of the reach of low income earners, apartments cannot be transferred at a price higher that of other low income houses.