A draft government resolution on preventing high inflation and ensuring a 6.5 percent growth this year was high on the agenda of an April 5 online conference between the Government, authorities of centrally run provinces and cities, and leading State-owned corporations.
The conference discussed price control, goods distribution, negotiable lending interest rates, support for exporters and businesses, administrative reforms, and promoting domestically produced goods.
Speaking at the meeting, Standing Deputy Prime Minister Nguyen Sinh Hung warned that the country is facing many difficulties in terms of economic recovery and development. He said double-digit inflation is likely to re-occur unless urgent measures are taken soon.
He also blamed poor management for the rising prices of some essential commodities, saying this should have been controlled.
Electricity, fuel, and materials in industries, meanwhile, are not being used efficiently, pushing production costs up, Mr. Hung added.
He said control over imports and monetary policies remained poor, causing impediments to the country's economic recovery.
Another problem is the sluggish mobilization of capital for development investment, Mr. Hung said, citing that the first quarter saw only VND10 trillion (US$562.3 million) collected from the 2010 plan for issuing Government bonds worth VND180 trillion ($9.47 billion).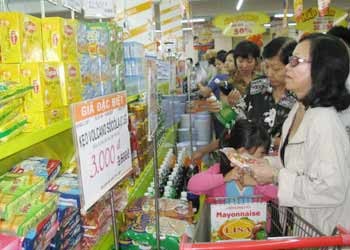 Customers shop at a Co.op Mart supermarket on Cong Quynh Street in HCMC. During an online conference on April 5, the Government and agencies discussed solutions to control prices, preventing high inflation, and ensuring growth of 6.5 percent this year. (Photo: Viet Bao)
Businesses, especially small- and medium-sized enterprises, find it hard to access bank loans, especially those with high negotiable interest rates, he said.
Some provinces and cities, like Ho Chi Minh City, have taken effective measures to stabilize prices of essential commodities, while many other localities failed to do the same, Mr. Hung complained.
Government solutions
The Government has recently launched a draft resolution on solutions to stabilize the macro-economy, prevent high inflation, and achieve GDP growth of 6.5 percent this year.
The measures include boosting exports to reduce the trade deficit; ensuring resources for socioeconomic development; ensuring safety of the financial-banking system; stepping up production and trade activities; and strengthening information and public awareness about Government policies.
Accordingly, the State Bank of Vietnam must implement financial policies in an active, flexible and prudent manner, ensuring that credit grows by around 25 percent and total means of payment increase by 20 percent.
The bank must gradually reduce lending rates based on market mechanisms to support businesses.
Also according to the draft, the Finance Ministry should work with the Ministry of Industry and Trade to keep prices of electricity and coal unchanged until the end of this year.
The two ministries are also asked to boost exports and lower the trade deficit to improve payment balance, and to ensure that loans in foreign currencies are used to import products that cannot be produced domestically.
Agencies must review current regulations governing imports by foreign-invested enterprises and abolish those that are unreasonable.
HCMC targets GDP growth of over 11 percent
At the conference, HCMC People' Committee Deputy Chairperson Nguyen Thi Hong said the city has agreed to the draft Government resolution.
The city will ensure a balance of supply and demand as related to goods, especially essential items; strengthen price control; use goods reserves to stabilize markets; step up market control and crackdowns on fake and poor-quality goods; expand and diversify retail systems to directly distribute goods to customers; and support businesses in promoting made-in-Vietnam products.
Ms. Hong said the city has posted GDP growth of 11 percent in the first quarter, far higher than the 4 percent growth in the same period last year.
Contributing to such growth, industrial output in the period expanded by 13.7 percent, agricultural production increased by 6.2 percent, and services surged by 10.5 percent from a year earlier.
After the conference, HCMC People's Committee Chairman Le Hoang Quan asked city agencies to prepare plans to implement the Government's resolution, with an aim to help the city achieve GDP growth of over 11 percent this year.