Deputy Prime Minister Pham Gia Khiem called upon the whole society to give full support to mother and child health care programmes.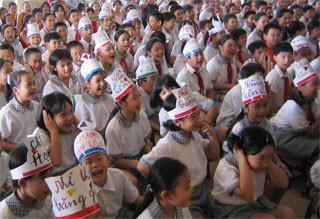 Viet Nam is the world's 13th largest country by population
Speaking at a meeting to mark the International Population Day (July 11) held in Ha Noi on July 10, Deputy PM Khiem also expressed thanks to the international community for assisting Viet Nam in the population and family planning work over the past time.
Ian Howie, Chief Representative of the United Nations Population Fund (UNFPA) to Viet Nam affirmed that the fund would continue to help improve the lives of vulnerable people who are given low-quality healthcare services.
The fund will focus on minimising the number of fetuses and mothers in the country dying of side-effects during pregnancy, he said.
More priorities will be given to raising Vietnamese men's awareness of their roles and responsibilities in population work in response to the theme of this year's International Population Day of "Men as Partners in Maternal Health," he added.
Started in 1961 but Viet Nam's population and family planning work only saw noteworthy results after a special agency, the National Committee for Population, Family and Children (CPFC), was established in 1991.
By 2006, the country's population growth rate decreased to 1.26 percent per year and its population size was 84 million people.
According to CPFC Minister-Chairman Le Thi Thu, the country's quick containment on population growth has made an important contribution to increasing per-capita GDP and lessening the population pressure on socio-economic development, employment, environment and poverty reduction.
Viet Nam received the UN's Award on population work in 1999.
However, the male chauvinism is still a big challenge for the country's family planning work.
Viet Nam is now the world's 13th largest country by population and its population density is among the highest with 252 people per sq.km. The country is also facing a serious gender imbalance.