Ha Cong Tuan, Deputy Minister of Agriculture and Rural Development, disclosed that the Government has been able to collect upto VND1.2 trillion (US$57 million) from a forest environment fee that was set up in 2012.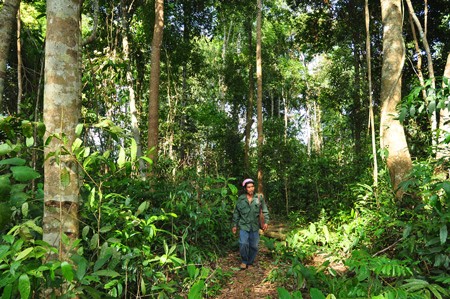 A resident tasked to patrol the forest in Dak Nong Province, in a bid to prevent illegal logging by lumberjacks (Photo: SGGP)
Last year was the first year that the Government set up a forest environment fee for spending on wages for local residents who would in turn monitor and protect the forests and prevent their plundering.
In 2012, collection from the fee amounted to VND1.2 trillion--equivalent to the annual Central Budget for the forestry industry.
Fee collection in 2013 is expected to be around VND1 trillion, which again will be spent on paying residents to protect the forest cover.
So far, the forest environment fee is being collected from hydropower plants and a few water supply plants, but authorized organs are studying the possibility of tapping the ecotourism sector as well.