PM Nguyen Tan Dung set three major tasks for 2007, focusing on efforts to gain gross domestic product (GDP) growth of 8.5 percent, step up administrative reform and intensify the fight against corruption, at the government's regular meeting on Wednesday.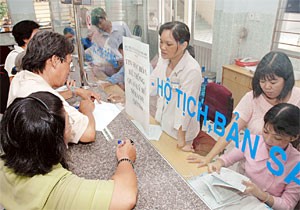 Administrative reform is one of three major tasks set for 2007 

PM Dung noted with satisfaction that 2006, the first year of the nation's five-year socio-economic development plan until 2010, saw GDP growth of nearly 8.2 percent and the fulfillment of almost all set targets although the country had faced various difficulties, including natural disasters, epidemics and price hikes of many commodities.

He highlighted Viet Nam's successes in foreign affairs, citing the successful organization of the 14th APEC Economic Leaders' Meeting, its nomination as the only candidate in Asia for a non-permanent seat in the United Nations Security Council in the 2008-09 term and its accession to the World Trade Organization (WTO).

The government leader also pointed to Viet Nam's export revenues of US$39.6 billion, foreign direct investment capital of US$10.2 billion and committed official development assistance (ODA) capital of US$4.44 billion as the country's outstanding achievements in 2006.

However, economic development has yet to fully tap the country's potential, PM Dung said, adding that there remained many shortcomings such as tardy capital disbursement, slow implementation of projects, lack of qualified human resources for development requirements, environmental pollution and unresolved urgent social issues.

At the meeting, cabinet members discussed and gave suggestions to reports on the government's management work in 2006 and tasks in 2007, socio-economic development and exports activities in 2006, the issuance of government bonds, the administrative work in 2006 and the government's plan of action on the implementation of the Anti-Corruption Law.

The government officials also debated and endorsed the establishment of steering boards for corruption prevention in provinces and central-run cities with Chairpersons of the provincial and municipal People's Committees as their heads.