Deputy Prime Minister Nguyen Thien Nhan said at a meeting in Hanoi recently that a crack down on smuggling of chickens and other poultry would be under a specific project in which responsibilities of individuals and organizations would be clearly defined.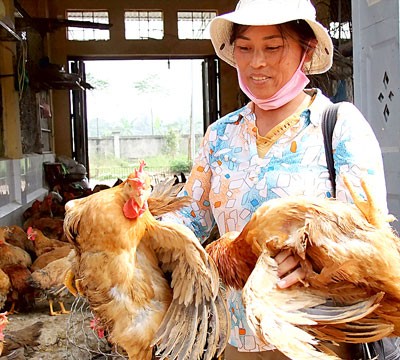 Smuggled chickens have been selling in Ha Vi Market for several years (Photo: SGGP)
He said that the project should specify clearly all the ways to control smuggling across borders as well as supervision of transport, delivery and consumption of such products.
Colonel Tran Trong Binh, deputy head of the Environment Crime Prevention Department, said that relevant ministries, departments and local communities should constantly monitor and tackle smuggling of chickens.
Besides the Ha Vi Market in Hanoi--the largest chicken market in the northern region, they should also take tough action against smuggling across border areas and places of consumption, he said.
After the Prime Minister called on authorities a few months ago to crack down on illegal chickens which were flooding the domestic market, smuggling reduced to a large extent. However it has sprouted back once again.
According to customs divisions in border areas of Lang Son and Quang Ninh Provinces, chickens are being smuggled in masses into Vietnam since the beginning of the year, 40 percent of which is out of control.
Since September, authorized organs have uncovered 15-18 tons of illegal chickens a week in Ha Vi Market, where chickens are regularized before being sent off as 'legal products' to the central and southern regions.
A kilogram of chicken, that is past expiry date, imported from China and South Korea costs only VND15,000-25,000. However in Ha Vi Market this same chicken costs an exorbitant VND70,000-75,000 a kilogram. Consumers are unable to differentiate between this chicken and normal fresh stock.
Nguyen Thi Xuan Thu, deputy minister of Agriculture and Rural Development, said that the ministry is working with related departments to test for chemical residues in such chickens and check nutritional content as well.