The Government is determined to adopt measures to curb inflation and ensure social welfare in the future.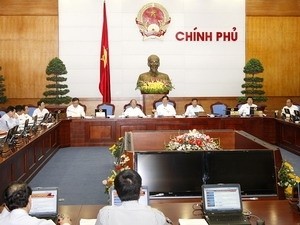 The Cabinet at its monthly meeting on April 28-29, 2011.
Prime Minister Nguyen Tan Dung made the statement at a regular monthly meeting of the Government on April 28-29, in which the cabinet reviewed the socioeconomic growth in April and the past four months and discussed measures to adopt in May.
 
The Government agreed to keep economic growth at a steady pace, even though it may be lower than in 2010. They believe that if economy does not grow, it will affect peoples' livelihoods.
 
Addressing the meeting, PM Dung said the country has strived to keep inflation at about 12-13 percent in 2011, while registering an economic growth of 6 percent and trade deficit at 16 percent.
 
Measures adopted at the meeting included reducing of overspending, public investments and trade deficit. Pricing structure would be transparent but according to market rules. Speculation must be prevented to avoid price fluctuation.
 
Interest rates will be regulated at reasonable rates to ensure credit growth. Any banks that violate interest rate-related regulations will be punished.
 
The Government will ensure sufficient funds and power for society and reschedule payment of enterprise income tax and some other taxes as well.
 
The PM wanted social welfare issues to be resolved and more loans given to poor students.
 
He stressed that prices will have to be monitored drastically to prevent unreasonable price hikes.
 
Finance Minister Vu Van Ninh said the Government has regulated pricing in a very difficult current environment because it has been affected by global prices and local prices that cannot be controlled according to earlier pricing mechanisms.
 
He said appropriate measures are necessary, as prices cannot be fluid. The country has to accept a new price level someday to ensure transparent accounting.
 
PM Dung requested ministries and agencies to closely watch and forecast socio-economic development in the country and globally, especially prices of petroleum, materials and food, in order to implement appropriate and timely action.
 
Also at the meeting, cabinet members heard reports on implementation of the Government Resolution 11 on curbing inflation, stabilizing the macro-economy and ensuring social welfare.
 
According to the Ministry of Planning and Investment (MPI), ministries and central agencies reported cutting 225 projects worth VND899.4 billion and central provinces and cities reported cutting 1,484 projects worth over VND4, 229 billion.
 
Meanwhile, state-run corporations and economic groups have reviewed, suspended and rescheduled 907 projects worth over VND39.212billion, he added.
 
The Cabinet agreed that the country's economy has seen positive developments as currency, gold and US dollar rate is under control and public investment has decreased.
 
However, they admitted that high prices and interest rates will still affect production and trade deficit will remain high in April.
 
According to the MPI report, the consumer price index soared 3.32 percent in April against the previous month. Export turnover was estimated at US$7.3 billion in April and the trade deficit was US$1.4billion.
Apart from discussing the reasons for soaring prices, implementation of solutions on price management, inflation control, macro-economic stability and social security, the cabinet dealt with preparations for the upcoming elections of the National Assembly and Peoples' Council.
 
They gave their opinions on the action plan to carry out the 10-year socio-economic development strategy for 2011-2020 and the orientation and tasks for the five-year national development plan.