Representatives from ministries and the Steering Committee for the Southwest, along with leaders of the Mekong Delta Provinces and Ho Chi Minh City, attended a conference chaired by Deputy Prime Minister Vu Van Ninh on Tuesday, to discuss sustainable development of all staple produce of the delta region.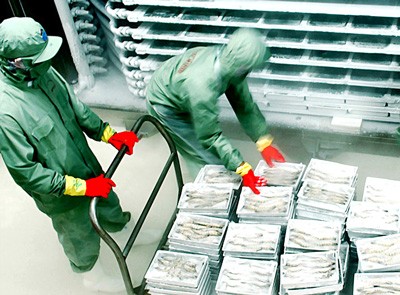 A shrimp processing plant in Ca Mau Province (Photo: SGGP)
The conference aimed to find mechanisms and policies to resolve difficulties faced by farmers and businesses so as to gradually boost sustainable development of key farm and seafood products of the delta region, said Mr. Ninh.
According to the Ministries of Agriculture and Rural Development and Industry and Trade, the staple produce in the delta like rice, pangasius, tiger prawn are inundated with difficulties.
A large area under shrimp farming has been lying dead, causing a shortage of material in export processing plants. Rice prices remain low as grain export faces tough competition from rivals in the low-quality rice segment.
Several pangasius breeders and export enterprises have suffered losses due to drastic fall in prices.
Mai Thi Anh Tuyet, director of the Department of Industry and Trade in An Giang Province, said that a method should be developed for increasing high-grade rice variety and reducing production of low-grade variety.
The Government should put in place policies to assist pangasius breeders and processors as they are unable to access loans without collaterals, she said.
Nguyen Thanh Nguyen, deputy chairman of People's Committee of Long An Province, said that several policies and mechanisms have been put in place to develop key staple produce of the delta region.
However, implementation of these policies has been tough. For instance, Long An Province wants to invest in electric pumping stations at the Prime Minister's directive, but doesn't know which department is responsible for this.
Several leaders in the delta said that rice stockpiling should be done on a long term basis and not for short term, as at present.
Mr. Ninh said that this was an important matter and instructed the Ministries of Finance and Agriculture and Rural Development to look into it and give their proposal.
Provinces in the delta also proposed to the Government to fund them sufficiently to fortify dykes and have more pumping stations during the coming winter-spring rice crop and also increase credit for agriculture and rural development.
According to Mr. Ninh, relevant authorities should soon carry out measures to help pangasius breeders and exporters.
In the long term, they should study how to supplement and perfect mechanisms and policies to sustainably develop the key staple farm products in the Mekong Delta.