Investors who build houses for workers will be exempt from land use fees and rent. They will also enjoy zero percent VAT, be exempted from business tax for four years and a 50 percent reduction in business tax for nine years after that, the Government announced recently.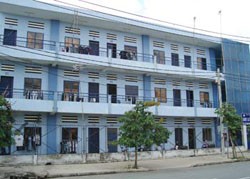 An apartment block for workers in Binh Tan District, HCM City
The policy is aimed at 'Level 1' investors, who have overall responsibility for the whole project, and 'Level 2' investors who are sub-contractors.
The incentives are part of the Government's policy to build houses for workers in industrial zones.
The Government has set a target to meet around 50 percent of housing demand by 2015.
The Government stipulated that the minimum standard for workers is five square meters per worker. The rent will be set by investors and approved by provincial People's Committees.
Compensation and clearing the area for housing will not be calculated in the rent. The maximum profit in rent for investors will be no more than 10 percent and require investment in the business for a minimum of 20 years.