The Vietnamese Government is preparing for equitization at 27 State-run corporations and business groups in which the State holds more than a 65% stake or holds 75% of chartered capital between 2015 and 2020.
This was announced at a conference held in Hanoi on Dec. 8 to review the ten years of restructuring and developing State-owned enterprises (SOEs) from 2001 to 2010.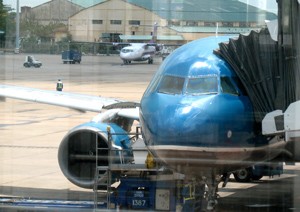 File photo shows a Vietnam Airlines plane at Tan Son Nhat Airport in Ho Chi Minh City. The Vietnamese Government has allowed the national carrier to go public in a move to restructure the State-run corporation. (Photo: Tuong Thuy)
Addressing the conference, Prime Minister Nguyen Tan Dung said the Government would continue to restructure SOEs to improve their effectiveness.
Government statistics showed that Vietnam has restructured more than 4,700 businesses, and almost 3,400 among them have gone public.
Mr. Pham Viet Muon, deputy head of the Government Office and deputy chief of the Steering Committee for Business Renovation and Development, said the number of equitized SOEs reporting losses has decreased significantly over the past 10 years.
He also said equitization has contributed to improving business effectiveness.
As for the time to come, Prime Minister Dung urged ministries and localities to work out their restructuring SOEs. He said the equitization pace was still low over the past 10 years.
At the conference, the Government reiterated that it had asked SOEs and State-run business groups to cut their investments into fields out of their major business areas.
According to the PM, SOEs in general have so far met requirements assigned by the State, including ensuring energy security, stabilizing the nation's financial markets and promoting socio-economic development in the fields where the private sector has not yet operated, such as aviation, telecommunications, construction of major projects, security and defence.
The PM pointed out their shortcomings and weaknesses that need to be solved in future, including unsuitable management mechanisms and low efficiency.
He also underlined the significance of human resources planning in SOE restructuring.
The Government leader said the State expected the process of SOE restructuring to be completed by 2015.