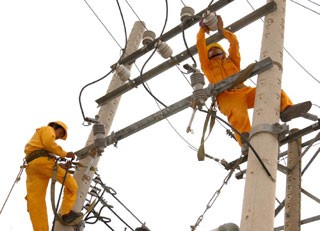 EVN has been ordered to supply enough power to maintain production and serve people's needs
The Vietnam Electricity Group (EVN) was ordered to report on the negative impact regular power outages have had on production and living. They were also ordered to announce the schedule for blackouts to Standing Deputy Prime Minister Nguyen Sinh Hung before July 15.
In order to improve the power outage situation, the government office has sent the Deputy Prime Minister's instruction of ensuring enough energy to keep production and daily life in the city from being uninterrupted by blackouts. Under the instruction, the EVN must estimate how blackouts have affected businesses and residents.
Tran Khiem Tuan, deputy director of Vietnam Electricity Group (EVN) in Ho Chi Minh City, said on July 2 that the EVN in HCMC has sent an urgent dispatch to electricity companies, instructing them to stop cutting off power to localities. In the dispatch, the EVN required its sub-divisions not to cut power over five hours a day and only once a week in HCMC, the country's largest economic hub, since July 1.
The EVN in HCMC committed to minimize blackouts to ensure socio-economic activities in the near future. However, according to the schedule for blackouts set forth by HCMC Electricity, the power blackouts will take place from July 7 to 13.