Deputy Prime Minister Vuong Dinh Hue has instructed ministries and local governments in the Cuu Long (Mekong) Delta to prioritise investment in transportation and logistics services to help improve the region's competitiveness.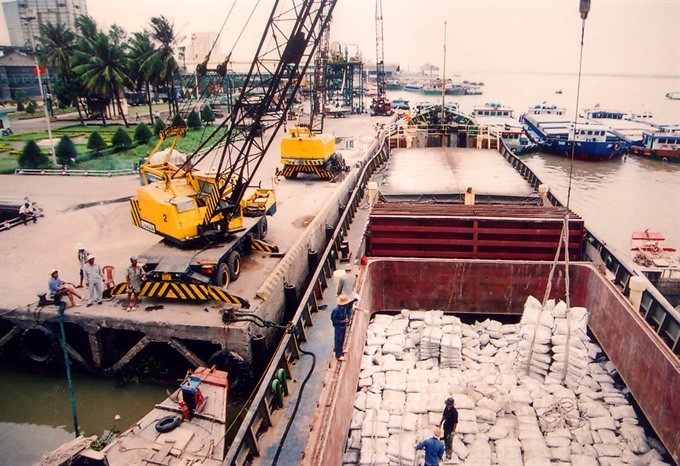 Loading and unloading freight ships at Tra Noc Port in the southern province of Can Tho. (Photo: VNA)
Speaking at a conference on logistics services held yesterday in the delta city of Can Tho, Mr. Hue said poor road connections and waterway transportation throughout the area have directly affected its socio-economic development. But investment in infrastructure remains low, and water transport has developed poorly despite the delta's dense river network, its biggest advantage.
The deputy PM, chairman of the Southwestern Region Steering Committee, urged local authorities and ministries to submit their plans to the Government soon on the development of transport infrastructure and logistics services.
He asked several agencies, especially the ministries of Industry and Trade, Transport, and Planning and Investment, to review and improve policies and incentives for logistics services, and asked the region to mobilise local and foreign resources.
The Southwestern Region Steering Committee said it would work with the delta provinces to carry out an action plan on logistics services development.
Regional centre
The Ministry of Industry and Trade will also help establish a regional logistics centre in accordance with a plan approved by the Prime Minister. 
Mr. Hue said the regional logistics centre was essential because most enterprises are heavily dependent on HCM City and Ba Ria-Vung Tau Province, and a large-scale centre would help relieve the burden on HCM City ports and road networks linking the city with the region.
More than 70 per cent of imports and exports from the region are transported to the Cai Mep-Thi Vai Port in Ba Ria-Vung Tau Province, raising transport costs and creating pressure on connecting road networks.
Experts at the conference urged the Government to develop policies and tax and land leasing incentives to encourage investment in waterway transport, such as container ports and terminals, as well as specialised ports.
Mr. Le Duy Hiep, vice chairman of the Vietnam Logistics Business Association, said that Can Tho should be the delivery hub for exports from the region.
He said there should be multiple logistics centres, an upgrade of old facilities, and establishment of new centres easily accessible by road and waterway. "Up to 80 per cent of logistic service costs are in transport and goods handling, so the development of logistics infrastructure and centres plays a major role in promoting logistical operations and reducing costs," he said.
The Mekong Delta contributes 60 percent of Vietnam's seafood exports and more than 90 percent of its rice shipments.
Challenges
The delta has roughly 4,718km of national highways, 2,030km of provincial roads, and 72,851km of district and country roads. It has 13,000km of waterways, with 7,000km managed by authorities.
But the waterways, which connect it to the country and neighbouring states, have not proven very efficient. Marine traffic has not developed well since many river mouths have not been dredged, according to experts.
Mr. Tran Huu Hiep from the Southwestern Region Steering Committee called on enterprises to invest in major logistics projects in the region because the volume of goods transported via ports in the region is expected to surge - reaching 25-28 million tonnes a year by 2020, and 66.5- 71.5 million tonnes a year by 2030.
According to experts, logistics costs should account for 10-13 per cent of GDP in developed countries, and 15-20 percent of GDP in developing countries. However, the logistics costs often account for 20-25 percent of Vietnam's GDP, which has affected the competitiveness of exports.
At the conference, local and foreign investors signed Memoranda of Understanding (MoUs) with a number of agencies in Vietnam.