The gov't has invested billions of dong in the water supply and irrigation system in Krong Pa District in Gia Lai Province, which residents say they have little use of, as most don't use tap or well water for daily use and the canal has no irrigation network to take water to their fields.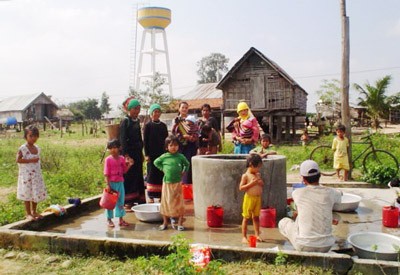 Jrai ethnic minority people draw water from a well in their village in Krong Pa District of Dak Lak Province (Photo: SGGP)
Krong Pa District is called 'the fire bowl' of Gia Lai Province and the Central Highlands, with an annual average temperature of 34 degrees Celsius. Local residents here face extreme water shortage for daily use all year round.
Since 1998, nearly 60 water supply works were built in 12 communes of the district at a cost of hundreds of billions of dong, from the central and provincial budgets.
However, most of the local residents belong to the Jrai ethnic minority community, who traditionally are used to carrying water from rivers and springs for daily use. Thus, using well or tap water is alien to them as they believe that spring water is fresher and purer and does not cost as much as tap water.
Ksor Hnon, from Phu Can Commune, says her family brings water from the spring for drinking as it is cool and fresh. Kpa H'Blai, from the same commune, says her family just uses tap water for washing and bathing but not for drinking.
Because they have not been in use for a long period of time, 20 per cent of the 60 water supply systems, particularly the bore wells have downgraded. Some wells have become heavily polluted with high concentrations of lime.
 
According to Nguyen Quang Huy, chairman of Ia Mlah Commune, the commune has completed installing pipes to provide water to 70 households, but most of them are so poor that they have no money to pay for the tap water.
Fields remain parched
 
In May 2005, the irrigation investment and construction board No.8 under the Ministry of Agriculture and Rural Development began to build the Ia Mlah irrigation work in Krong Pa District.
Half of the local residents belong to the ethnic minority groups and most of them live on farming. They were too happy to see construction of the irrigation work, as year round the land is dry and parched.
The Ia Mlah irrigation work has been financed by the Ministry of Agriculture and Rural Development, which saw the construction of the reservoir, 17km of the main canal, over 20km of off-shoots of the canal and a 17km road from Phu Tuc town to the reservoir dam, back  in 2005.
In 2009, the ministry continued to task its department in Gia Lai Province and the People's Committee in Krong Pa District to build the remaining canal branches to flow water into fields.
All tasks for board No.8 have been completed and are operational but works of the department and the people's committee have been sluggish. Thus there continues to be a water shortage to irrigate the fields.
Nay Thit, from Ia Mlah Commune, says water from the reservoir flows down into the canal but there are no off-shoots of the canal to take water to the fields. As a result, water from the main canal overflows into surrounding areas while fields continue to suffer drought conditions.