The Government Office September 1 announced its conclusions on issues related to wage reform, social insurance and preferential allowances for people with 'meritorious service' between 2008 and 2012.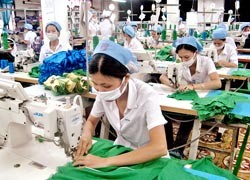 The current minimum wage is too low in private-owned companies and has not safeguarded a basic living wage.
The permanent deputy Prime Minister, Nguyen Sinh Hung, asked the State Steering Committee for Studying the Reform of Wage Policies to organize a meeting to preliminary wrap-up a report on wage policy reform between 2008 and 2010.
He also asked the steering committee to report to the Government by the end of this year about advantages and disadvantages in implementing wage policies, social insurance and preferential allowances for people with meritorious service.
Mr. Hung also asked the Ministry of Labor, War Invalid and Social Welfare to build plans to adjust wage policy and allowances in 2010, to follow a roadmap for wage policy and the State's ability to fulfill that responsibility, as well as coordinate with the Ministry of Finance and submit it to the Prime Minister.
According to Government's requirement, private businesses will have to pay an increase in minimum wages of 12.3 percent from January 1, 2010.
The new minimum wage will be applied to state-owned companies, government wrkers, those, who took part in the nation liberation, and pensioners from May 1, 2010.
The latest minimum wage rose to VND650,000 (US$36) per month from VND540,000 in May 1, 2009. It was put into effect for civil servants, pensioners, those on social insurance and members of the armed forces.