The Insurance Management and Supervision Department under the Ministry of Finance is planning to launch a pilot programme for insurance of aqua and agricultural produce in 20 provinces and cities nationwide.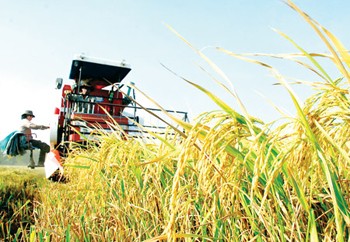 Rice being harvested in the Mekong Delta (Photo: SGGP)
Accordingly, the pilot programme will run from October 2011 through 2013 and will cover three produce items namely, rice, animal husbandry and aqua-farming, which are the worst affected mainly by natural disasters and diseases.
Rice will be insured in An Giang, Dong Thap, Binh Thuan, Ha Tinh, Nghe An, Nam Dinh and Thai Binh Provinces.
Aquaculture produce of pangasius, tiger shrimps and white leg shrimps will now be insured in Tra Vinh, Ben Tre, Bac Lieu, Ca Mau and Soc Trang Provinces.
Livestock breeding of cows, buffalo, pig, chicken and duck will be insured in Dong Nai, Binh Duong, Binh Dinh, Nghe An, Thanh Hoa, Bac Ninh, Hai Phong, Vinh Phuc Provinces and in Hanoi City.
Each province will select three districts and each district will select three communes to run the pilot programme.
The State will fund 100 percent of the insurance premium for those living below the poverty line, 80 percent for the poorer households and 60 percent for average households. Production units buying the agricultural insurance will be reimbursed 20 percent of the amount by the insurance company.
According to the Ministry of Finance, some companies had earlier offered insurance on agricultural produce, but so far they have not been successful. 
Bao Viet Insurance Company has carried out agricultural insurance since 1982, Groupama since 2001 and Bao Minh since 2010, but their policies do not seem to have assisted the farmers.