The Son La hydroelectric power plant is a key national project and a model of construction progress, quality and labor safety that should be applied to other major projects.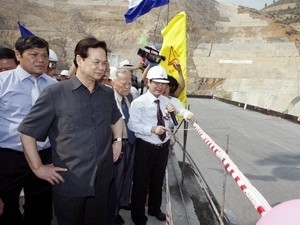 The Prime Minister visits Ban Chat hydroelectric power plant (Photo: VietnamPlus)
Prime Minister Nguyen Tan Dung delivered this comment at a ceremony held on April 21 to mark the generation of electricity from turbine No. 2 and the 1 billionth kWh produced by turbine No. 1 at the Son La power plant in the northern Son La province.
The PM praised the efforts of design and construction units as well as officials and workers to overcome all difficulties and hardships to complete turbine No. 2 ahead of schedule.
PM Dung also requested the project's investors, design and construction units, officials, engineers and workers continue to speed up the installation of turbines No. 3 and No. 4 to accomplish them in August and December as planned.
The Son La hydroelectric power plant, the largest of its kind in Southeast Asia, is invested, designed, built and operated by Vietnam itself. It was put into operation three years ahead of schedule.
With six turbine groups and a combined capacity of 2,400 MW, the project has a total investment capital of some VND42 trillion, or more than US$2.1 billion, and will supply the economy with 10.2 billion kWh of power a year once it swings into full operation in 2012.
Also on April 21, PM Dung and leaders of relevant ministries and agencies made field trips to the Ban Chat and Huoi Quang hydroelectric power plants in the northern mountainous provinces of Lai Chau and Son La, respectively.