Deputy Prime Minister Vu Van Ninh has said that the Government cannot afford and should not save businesses indiscriminately without verifying, and enterprises must restructure and overcome difficulties themselves with support from the Government.
Deputy PM Ninh was speaking with SGGP in the lobby during the Congress meeting on morning of June 8, in which restructuring the Vietnam economy was the hot subject of debate at the National Assembly.
Q: Bankruptcy in many enterprises will certainly affect revenues and many deputies have proposed tax breaks for businesses. What is the Government's point of view concerning this problem, Deputy Prime Minister?
A: The Government attaches great importance to this issue and is looking into solutions on how to support enterprises to overcome their difficulties. But we must understand that our first priority and goal is to control inflation and stabilise macro-economy. The solution must be in accordance with the process of economic restructuring and an innovative growth model.
Of course, during the current very difficult period for businesses, the Government must launch a support package. Actually this is not like a stimulus economic package as in 2009; because we must do it carefully to avoid de-stabilising the macro-economy or we will not reach the target. This is not an easy goal to reach, to control inflation and to stabilise macro-economy as stipulated by the Party and the National Assembly while helping enterprises overcome difficulties at the same time.
Restructuring does not stop at state enterprises but covers all economic sectors. This is an opportunity for all enterprises to rearrange themselves. My point of view is that the businesses themselves must also consider this as an opportunity to restructure and use government support to overcome difficulties. The Government cannot and should not now try to "save" businesses indiscriminately.
Q: It was said that to save businesses would be "to let out a fire", but the solutions given are somewhat too slow? The Government has offered lower bank interest rates but it is still difficult for businesses to access loans from banks. What is your view on this, Deputy Prime Minister Ninh?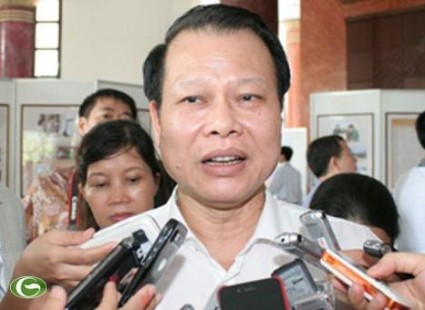 Deputy Prime Minister Vu Van Ninh answers questions(Photo Government website)
A: Taxation is one of the most important tools to support enterprises but there still are conditions to be created for enterprises to access capital. Just now the enterprises find it difficult to get loans, but the Government has directed the State Bank to lower interest rates. Compared to the beginning of the year, interest rates have fallen rapidly. Previously we just set down a percentage point in each quarter but actually we are lowering the interest rate quicker than planned, that, I think is a positive support for enterprises.
The key point at present that is being determined by the Government as "a clot" is the matter of bad debt. If we can find ways to tackle bad debts then it will be easier for enterprises to access capital.
Q: The State Bank Governor has recently said that the State Bank had "pumped" a huge amount of money into banks. Any comments concerning where this money has been "flowing"?
A: The difficulty now is that the bank is a business. Without the impact of state and no specific instructions, they have to calculate their loans. The debt of an enterprise and unpaid dues turn into bad debts. If commercial banks attach themselves to these principles then these would be considered as bad debts and they would refuse to supply loans to businesses. The key solution here is to restructure the debt to create favourable conditions for doing business better, and eventually businesses will be able to pay debts. Thereby, the bank's liquidity as well as the economy's liquidity will be solved.