Retirement age increase is inevitable but before making an official proposal, the Government should estimate specific socioeconomic impacts from that, Deputy Chairman of the National Assembly's Social Affairs Committee Bui Sy Loi has said.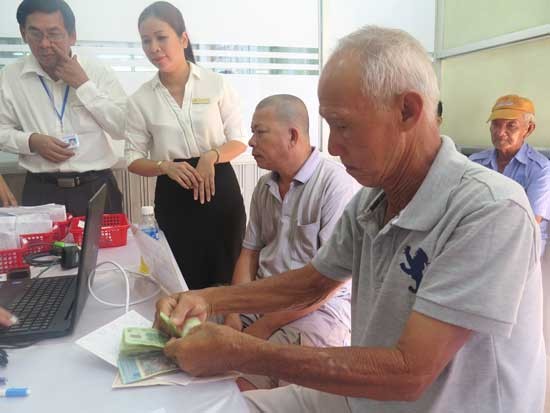 Citizens receive retirement pension at the central post office in Nha Be town, HCMC (Photo: SGGP)
The impacts comprise many aspects such as employment for young people, the ability to balance and stabilize social insurance fund, labor productivity and efficiency, and workers' rights.
Nevertheless, the public has expressed concern about higher unemployment danger for young people. Statistics show that the country had up to 191,000 unemployment bachelors in the first half this year.
According to Mr. Loi, the retirement age increase has just been a proposal in need of further discussing and calculating. Still he affirmed that the policy is inevitable to ensure future welfare and the important matter is to map out a suitable roadmap to prevent citizens from having negative reactions.
If the Government agrees to hike the retirement age, it should also adjust pension level as well as allowance for beneficiaries of state preferential treatment policies and count many other socioeconomic matters.
He stressed the need to detail estimations of economic impacts when deciding to expand the retirement age.
The deputy chairman said he had been in a divided mind because of controversial opinions by workers about the proposal. Most of them want to retire as per current regulations but some want to lengthen their term of office especially those keeping high level cadre posts.
Meantime, policymakers find the expansion necessary for the social insurance fund sustainability and less dependency on the state budget.
So Mr. Loi proposed the Government to specify that who will see longer retirement age, how many years it will increase and when the policy will take effect.

The retirement age expansion should not apply to those working in hard and harmful environment and remote areas, he added. However it should be kept unchanged at age 60 as present for cadres and officials.
In addition, he prompted the Vietnam Social Insurance Agency to have more transparent regulations for workers if applying the new policy.
For instance, the agency will increase the retirement age of cadres and officials. However these will no longer keep leadership posts after age 60 and continue paying social insurance until retirement to enjoy higher pension.
Those want to stop working sooner than regulation, they can pay insurance premium five years before retiring on pension, he suggested.

Many workers have said that the retirement age expansion means increase in social insurance payment amount and time. Young people commented that it will also lengthen the office term of many cadres in government agencies and state enterprises causing more difficulties for them to seek jobs.
Deputy Minister of Labor, Invalids and Social Affairs Pham Minh Huan said that the retirement age increase proposal started from the fact that Vietnam is now under an aging population trend and the need of long-term sustainability for social insurance fund.
The country's labor policy has showed some problems. Currently, life expectancy increases to 73 years old but average retirement age swings between 52 and 54. This means premium payment time is short but pension benefit time is long, resulting in an imbalance danger for social insurance fund.
The deputy minister affirmed that the Government will select groups of workers, not for all, to propose the retirement age increase. They have not decided the new retirement age but according to proposals it will move up from 60 to 62 for male and from 55 to 58 or 60 for female.
Talking about the high unemployment rate of university graduates, Mr. Huan said it had not been seen in the retirement age increase policy. Authorized agencies should review education and training policies to improve training quality and meet market demand. Socioeconomic development plans should create jobs and take advantage of young manpower.
Deputy director general of the Vietnam Social Insurance Agency Tran Dinh Lieu said that retirement age increase should have a roadmap. In fact, Insurance Law 2014 repair will only be conduced after the Labor Law is amended.