The Ministry of Agriculture and Rural Development has issued a directive providing technical know-how for coffee and pepper growers in the Central Highlands and Southeast regions to combat the prolonged drought in these areas.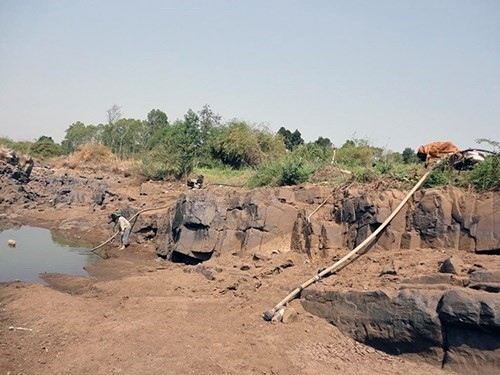 Krông H'Năng river is exhausted in Krông Năng district, Central Highland
Under the directive, from 250 to 300 litres of water will be irrigated to the foot of each coffee tree. Alternatively, each coffee tree would receive drips of 150 – 200 litres of water over a period of 20 to 25 days.
In addition, fertilisers containing Zn, B or NUCAFE will be used two to three times in the dry season to help the coffee trees cope with water shortages.
For pepper vines, they should be shielded with a trellis to reduce direct sunlight and minimise water evaporation.
In addition, 120 litres of water will be irrigated to the foot of pepper vines over a period of 20 to 25 days. Alternatively, 20 litres of water will be irrigated to the foot of the vine over a two to three day period.
The Cultivation Department under the Ministry of Agriculture and Rural Development has asked farmers to conserve water resources and to not grow more coffee and pepper.
It has also asked them to save water by using dripping and alternating methods.
Farmers have been told to combine dripping irrigation with fertilisation to improve the efficiency of fertilisers.
An increase in the use of organic fertilisers will help the soil remain humid, which keeps the fertilisers.
Coffee and pepper growers were also told to maintain trees with shade and belts of protective forests, and to intercrop with suitable fruit trees.
The Cultivation Department also told farmers to check their gardens for disease and take timely preventive measures to cope with drought.
According to the Department, as of April 10, in this year's dry season, 40,140 hectares of coffee and 2,290 hectares of pepper in the Central Highlands have faced water shortages.
In addition, farmers have had to suspend rice cultivation on over 7,100ha of paddy fields, and over 8,400ha of the winter-spring rice crop are forecast to lose from 30 per cent to 70 per cent of their output.
Without rains, in the months to come, the areas of land to be affected by drought and water shortage could reach 167,300 ha, including 152,700 ha under coffee cultivation and 14,600 ha of paddy fields.
Damages caused by the drought and water shortages in each Central Highlands province are estimated at over VNĐ100 billion (US$4.5 million).
Farmers chop down coffee trees
After efforts taken to seek water resources to cope with the worst drought in 30 years, thousands of farmers in the Central Highlands provinces of Lâm Đồng, Đắk Lắk, Đắk Nông, Gia Lai and Kon Tum have chopped down coffee trees and pepper vines and replaced them with short-term crops.
Phùng Ngọc Ba, a 40-year-old farmer from Gia Lai Province's Chư Pưh District, spent over VNĐ100 million to dig three more wells, aiming to save three hectares of land under coffee cultivation. But all his efforts were in vain.
"We have to purchase fresh water for our family's daily use, as well as water resources for irrigating trees. There is nothing more to do; I have to chop down coffee trees nearly 10 years old on a third of areas under coffee cultivation of my family, and replace them with other crops to earn money," he said.
Due to water shortages, coffee trees have lost their beans and leaves.
"There's no way to save them. It takes the coffee trees at least three years to recover. That's why I decided to replace them with other crops," Ba said.
Nguyễn Thanh Trà, a farmer from Chư Pưh District, said he was waiting until the rainy season to grow short-term crops such as corns, beans or grass (to feed cows).
He said he would "take each day as it comes".
Nguyễn Canh, secretary of Di Linh District's Party Committee in Lâm Đồng Province, said only 76 per cent of land under coffee cultivation in Di Linh was irrigated in the second irrigation phase.
The areas under coffee cultivation with water irrigation in the second phase in Di Linh District have reached 11,000 hectares.
"If El Nino progresses, crops under cultivation in our district will become more seriously damaged," said Canh.
To help local residents cope with water shortages, provincial authorities of Gia Lai, Lâm Đồng and Đắk Lắk have sent tank trucks to villages most affected by the drought to supply fresh water for residents' daily use.
Trần Trung Thành, deputy chief of the Central Highlands Hydrometeorology Station, said: "The cultivation of short-term crops is just a 'situational solution' because coffee and pepper cultivation has been the means of subsistence of tens of thousands of Central Highlands residents over decades."