Officials from the Party Central Committee's Department for Propaganda and Training visited and presented gifts to soldiers, cadres and residents on the Truong Sa (Spratly) Islands from 12 to 26 of April.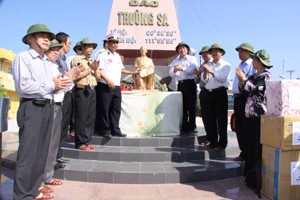 The delegation of the Party Central Committee's department for Education and Propagation, paid a visit to the island district of Trường Sa on April 12-26. (Source: VGP)
The delegation was led by Nguyen Bac Son, member of the Central Committee of the Communist Party.
During the trip, the delegation visited soldiers and householders living on the islands, and presented 1,600 books and magazines.
All books were donated by Education Publishing House in Ho Chi Minh City.
On behafl of the committee, Mr. Son also presented a bronze statue of President Ho Chi Minh to people on the Islands.