The Government has so far owed localities VND1,482 billion (US$66.5 million) of reward for their good performance in new rural development program, reported the Central Committee for Emulation and Commendation at a conference in Hanoi yesterday.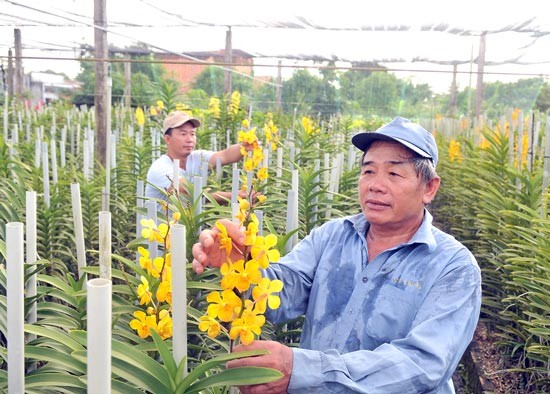 A farmer in his orchid farm in Cu Chi district, HCMC (Photo: SGGP)
According to the Prime Minister's Decision No. 1620 in 2011, each province will receive a bonus of VND30 billion for its achievements in the program. The reward is VND10 billion for districts and VND1 billion for communes.
However authorized agencies assigned to allocate the state budget for the reward have owned 13 provinces, 57 districts and 521 communes a total money of VND1,482 billion.
The Ministries of Planning and Investment & Finance have proposed to use provincial budgets to reward districts and communes. Still, the Central Committee for Emulation and Commendation said that the prize money should be taken from the central budget as per the Prime Minister's decision.
In addition, 52 provinces and cities now owe VND15,212 billion (US$682.4 million) of funds that have been spent on basic infrastructure construction.
Vietnam has had 1,965 communes meeting new rural standards by the end of May, accounting for 22 percent of the total number of communes in the country and up 4.9 percent over last yearend. The Prime Minister has signed decisions to recognize 23 new rural districts, an increase of eight over last December.
So far, total capital mobilized for the new rural development program has approximated VND263,127 billion (US$11.8 billion) including VND7,347 from the central budget. The rest amount has been raised from localities, businesses and citizens.
Representatives of ministries suggested adding new norms into the program in the new phase of 2016-2020. The Ministries of Health and Finance proposed to supplement standards on fresh water, health insurance and rural environmental hygiene.
Former Minster of Agriculture and Rural Development Le Huy Ngo said it is needed to reconsider the way of understanding about new rural development. The program should focus on improving the lives of residents and creating opportunities for them to earn high income rather than only building electricity, traffic, school and health clinic systems. Solving of citizens' urgent matters should also be on focus.
New rural development will not efficient if following achievements, he said. Material infrastructure construction is necessary but it has left over VND15 trillion arrears for localities. A commune now incurs a debt of VND1.5 billion (US$67,000).
Vietnam targets 25 percent communes meeting new rural standards by the end of this year and 30-35 districts recognized as new rural areas, said the Central Steering Committee on the National Target Program on New Rural Development. New rural criteria will increase at least by one norm for communes, it added.
Minister of Agricultural and Rural Development Cao Duc Phat said that the National Assembly has passed the new rural development program in the phase 2016-2020. Hence, the task set out now is to build up new criteria together with circulars and instructions for localities to implement the program.
Deputy Prime Minister Vuong Dinh Hue said that after five years of the program, the face of many villages has clearly changed. Still, it is necessary to review new rural planning and improve the planning quality to efficiently carry out the new phase.
Central and local agencies should complete supplemental criteria within July to submit to the Prime Minister for approval and guidelines. The new rural criteria should be built flexibly to suit characteristics of each locality.
Arrears in basic infrastructure construction should be reconsidered to learn from experiences. In addition, authorized agencies should glorify individuals and businesses making much contribution to new rural development, he added.

The Government will speed up related ministries to solve the reward arrears as soon as possible, he said.
The conference was hosted to review the national target program on new rural development for the first half of the year and debate implementation in the second half.