The government's price subsidised program is now quite popular   across the country, and its success is apparent with more and more people preferring to buy price subsidised products, rather than expensive imported foreign goods.
The program pervades not just Ho Chi Minh City but has spread throughout 30 cities and provinces nationwide.
Nonetheless, despite its many successes, implementing the program required overcoming many barriers and difficulties.
Establishing the price subsidised program
Ho Chi Minh City introduced the price subsidised program for the first time in 2002 with a basic fund of VND45 billion (US$225 million).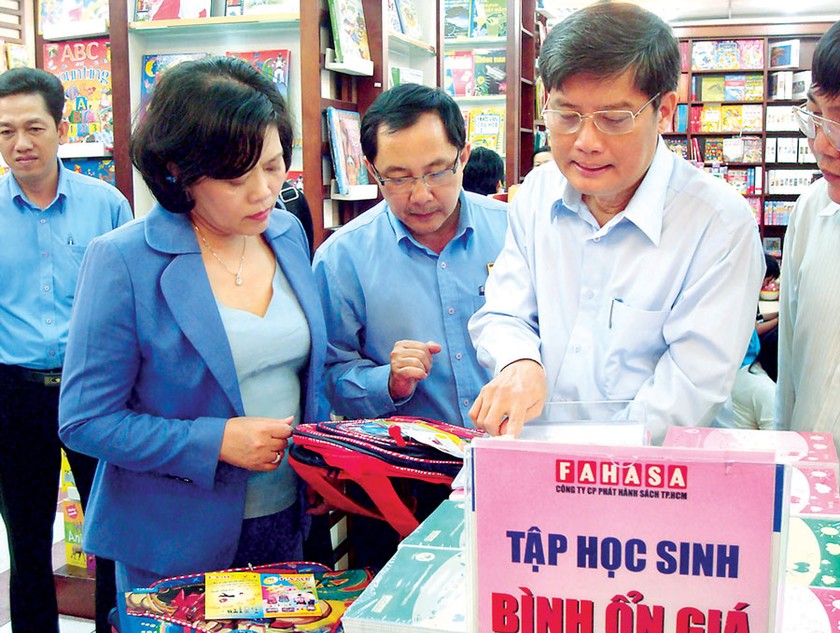 Nguyen Van Dua (2nd, R) checking student study material for sale under the price subsidised program (Photo:SGGP)
Prices of some essential commodities were subsidised during Tet Lunar New Year, when normally demand for essential goods rose and prices shot up by as much as 20-40 per cent.
Under the price subsidised program, eight food items were offered at lower than market rates, namely: rice, sugar, cooking oil, meat, poultry, processed foods, eggs and vegetables.
Businesses dealing with either the production or retailing of the above essential goods were asked to co-operate with the city in planning the production, processing and purchasing of the goods to make them attractive for consumers by offering them at a uniform, stable and lower price.
Each year, the city authorities met to evaluate the program and improve wherever necessary.
By 2004, the city raised the fund to VND124 billion ($6.2 million) as well as invited companies to actively participate in the program.
Businesses participating in the program would be eligible for interest-free loans to promote production or to purchase goods or maintain stocks. They would also pledge to sell items at 10 per cent lower than the market price.
The program has become an effective price regulatory tool over the past years and helped stabilize prices of essential goods in localities that experienced speculation, helping residents considerably. With abundant goods, reasonable price and good quality, the city has gradually controlled speculation that pushed up prices.
Building on this success, the city began to implement the price subsidised program throughout the year 2010 with eight products of rice, sugar, cooking oil, meat, poultry, eggs, processed food and vegetables.
2010 was the first year to add cloth and textiles and learning tools into the price subsidised program.
In 2011 the city added more products such as powdered milk and medicines, raising the number of products to 300.
Enterprises involved in the city's price subsidised program have increased their base in marketing of their products, and have been able to access preferential capital to develop production and retailing.
Nguyen Thi Hong, deputy chairwoman of the HCMC People's Committee wants the price subsidised program to join with the campaign to promote Vietnamese made goods. Only quality goods and hygienically safe items will then be allowed to enter the market via the program. Enterprises will also have to ensure enough supplies to meet the demand.
Goods must be accessible to all customers, especially residents and workers living in suburban districts and in industrial parks, said Hong.
Support from authorities
To avoid hike in prices during Tet, Prime Minister Nguyen Tan Dung has asked relevant ministries, agencies and localities to take drastic measures to stabilize prices in markets and ensure social order before, during, and after the Tet holiday season.
Authorities should strengthen inspections of businesses supplying essential goods to prevent speculation which can lead to increase in prices and also cause shortage of goods.

The PM also urged ministries and agencies to coordinate closely with municipal and provincial People's Committees to iron out snags in production, especially those related to administrative procedures. Support should also be given to agro and small, medium-sized businesses to have better and easier access to capital.

The Ministry of Industry and Trade aims to ensure the supply of goods for the last month of the lunar year as well as during Tet by enhancing coordination with localities and associations nationwide.
Companies participating in the program used to work on weekends and joined meetings chaired by Mrs. Hong, to resolve issues related to price subsidised products.

The city has asked businesses to take the initiative to ensure the quality and quantity of the products.