A plan to restore, preserve, and promote the Con Son – Kiep Bac historical relic site in the northern province of Hai Duong has received a government pledge of VND1.6 trillion (US$82 million).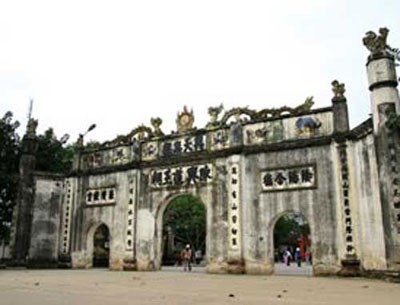 The gate of Kiep Bac Temple in the northern province of Hai Duong.
Con Son pagoda, located in the wilderness between Phuong Hoang and Ky Lan mountains, includes a series of pagodas and temples that contain artifacts relating to famous historical, cultural and literary figures in Vietnam. Con Son located in Cong Hoa commune, Chi Linh District.
Kiep Bac temple, located in Hung Dao commune, Chi Linh district, is dedicated to Tran Hung Dao, or Hung Dao Vuong Tran Quoc Tuan, a talented general under the Tran Dynasty who defeated Mongol invaders.
Under the plan, the Con Son – Kiep Bac site will be promoted as an integral part of Vietnamese history and will be advertised as part of the 1,000th anniversary of Thang Long – Hanoi in October this year.
The plan aims to popularize the site and create awareness of its cultural value among local Vietnamese. Planners also want to apply to UNESCO for recognition of the spot as a world cultural heritage site.