According to the Ministry of Agriculture and Rural Development, the Government rice stockpile program consists of only one million tons of winter-spring husked rice in the Mekong Delta, but farmers have cultivated an estimated four million tons.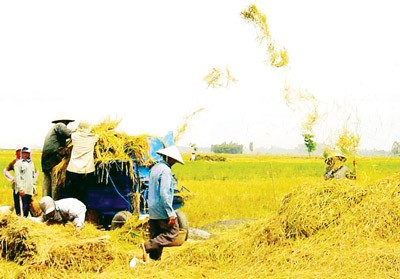 Farmers harvest rice in the Mekong Delta (Photo: SGGP)
Thousands of households are facing difficulty in selling the remaining two millions tons.
The Mekong Delta sowed 1.53 million hectares of winter-spring rice this year, a reduction of 46,000 hectares over last year.
Productivity is estimated at 6.91 million tons per hectare and output at 10.6 million tons, a fall of 230,000 tons from last year.
The winter-spring rice output is 560,000 tons in Hau Giang Province but the Vietnam Food Association plans to buy only 15,000 tons for stockpiling.
Ngo Quang Binh, head of the export-import division under the Department of Industry and Trade in Kien Giang Province, said that the Government stockpile volume of one million tons is far too short to meet consumption demand in the Mekong Delta.
According to provincial departments of industry and trade, businesses have so far bought 250,000 tons of rice, accounting for 25 percent of the total volume of one million tons in the Government rice stockpile program, which began February 20.
Thanks to the program, rice prices have moved slightly up by 150-200 a kilogram since the beginning of the winter-spring crop.
At present, 12 commercial banks have loaned businesses to purchase rice for stockpiling at an interest rate of 11 percent a year. However, complicated procedures and low disbursement have made several companies unable to buy rice as per schedule.
There are 199 businesses that have been tasked to buy rice for stockpiling. Of them 97 are members of the Vietnam Food Association and 22 others have credible financial status, quality warehouse systems, and sources to trade the stockpiled rice.