Minister of Agriculture and Rural Development Cao Duc Phat ordered local governments in the Mekong delta to support farmers who suffered loss from drought and salinity.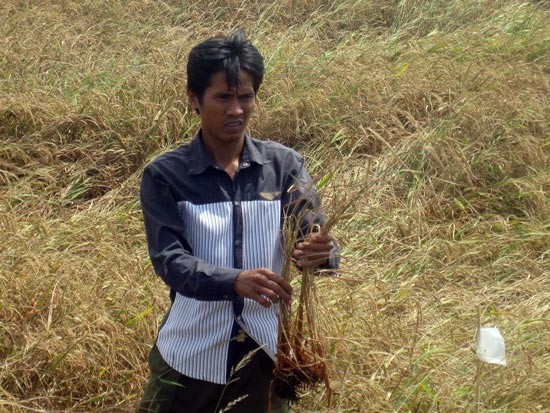 Paddy field in the Mekong delta die en mass due to drought and salinity (Photo: SGGP)
Minister Cao Duc Phat and his mission team yesterday toured the Mekong delta province of Tien Giang to understand more about the drought and salinity intrusion in the region.
Minister Phat lauded the measures carried out by residents and government in Tien Giang Province noting that the condition will last longer; accordingly related agencies need to adopt more measures against the natural disaster to protect paddy field and people's living.

Governments should give VND2 million (US$89.7) and VND1 million (US$44.8) per hectare to farmers whose paddy fields were destroyed up to 70 percent and below 70 percent as a support respectively.
As per People's Committee in Tien Giang Province's report, the province has so far had 1,020 hectare of the winter-spring paddy field which was destroyed due to early salinity intrusion. Despite of related agencies and inhabitants' efforts to fight against salinity and drought, more areas of paddy field are estimated to be effected; additionally, productivity of around 7,000 hectare of the winter-spring crop in districts Go Cong Dong, Go Cong Tay and Go Cong Town will be reduced from 20 percent to 50 percent.

Accordingly, more than 45,000 households in islet Tan Phu Dong are hauntingly worried about shortage of water for daily activities. Tien Giang's authority has planned to use barges to bring fresh water to gratis supply to residents in the islet.

Meanwhile, in the Mekong delta province of Kien Giang, 34,000 hectare of paddy field in districts An Minh, An Bien, Vinh Thuan and U Minh Thuong were totally destroyed due to drought and salinity, threatening thousand of the winter-spring fields in Hon Dat District.

6 out of 12 Mekong delta provinces have submitted to government and the Prime Minister for timely support.