Prime Minister Nguyen Tan Dung stated at the ninth and last session of the 12th National Assembly in Hanoi on March 21 that the Government would like to sincerely admit its shortcomings and take responsibility for all their operations.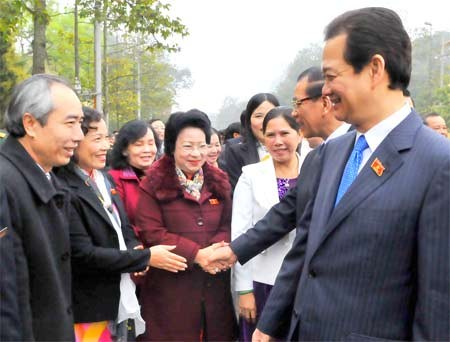 Prime Minister Nguyen Tan Dung (R) meets deputies at the ninth session of the 12th National Assembly in Hanoi on March 21 (Photo: SGGP).
PM Dung admitted and believed that there remained many shortcomings in the Government operations.
 
He said that the management on prices of some goods and services had not been done properly according to the market mechanism, creating obstruction for business investments and the stabilization of the macro-economy.
 
The currency market and the gold market haven't been managed well and administrative reforms and anti-corruption measures have not yielded satisfactory results, whereas the effort to build technical barriers to protect local production is lying stagnant.
 
According to the Government, the shortcomings have come from objective and subjective factors, with subjective factors being the most primary.
 
The Government has not performed well enough to create critical changes in addressing key issues as well as social concerns.
 
PM Dung also stressed that the administration at all levels has created favorable conditions and encouraged the development of the private economic sector, by simplifying procedures for registration of enterprises and creating legal bases to ensure equal access to resources.
 
One of the Government's outstanding achievements during its term was that social welfare was ensured, with the budget increase to over VND77 trillion (US$3.66 billion) in 2010 from VND39 trillion (US$1.86 billion) in 2006, he added.