The Government is applying a number of measures to help market the summer-autumn rice crop, which is just getting ready to be harvested in the Mekong Delta, said Truong Thanh Phong, chairman of Vietnam Food Association (VFA) at a meeting on June 4.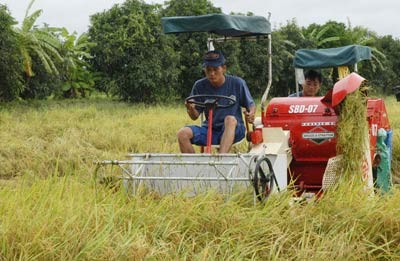 Rice being harvested in An Giang Province (Photo: SGGP)
According to VFA, the Government will purchase one million tons of summer-autumn rice for stockpiling from June 15 to July 31.
Rice export companies are currently experiencing a loss of US$25-30 a ton and none want to purchase more rice. As a result, VFA will have to appoint enterprises to buy rice.
The Government is encouraging businesses to quickly purchase rice to enjoy preferential interest rates.
VFA will accept lower than export price rates and help stimulate domestic price.
This measure might bring more losses to businesses but it is hoped it will prevent the domestic rice price from further falling.
VFA said that at this time relevant sides should not pay much attention to profit margins but try to circulate the rice market.
Experts say that present inventory of rice is very high in the world. For instance, Thailand has 17 million tons and India has 35 million tons in stock.
The two markets that are expected to import the most are China and Africa.
According to the United States Department of Agriculture, China will be the largest rice importing country this year with three million tons.
African countries are expected to import more rice this year than last year. This market buys about 6.4-6.5 million tons annually.