Sai Gon Giai Phong recently interviewed the director of HCM City's Department of Natural Resources and Environment, Dao Anh Kiet, about solutions to deal with the current environmental situation in the city.
He said that the department would check firms' environmental practices frequently. It would apply the highest level of new fines to offending firms and would close reoffending businesses.
Would you please tell our readers more about the new fines?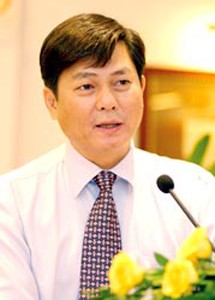 Director of the HCM City's Department of Natural Resources and Environment, Dao Anh Kiet
Mr. Dao Anh Kiet: The new fine was set much higher than the old one. It allows the chief inspector of the Department to fine offending firms a penalty that may be up to VND500 million ($29,000) while the old one was just VND30 million ($1,700). In addition, the new rule has given the city or province chairman of People's Committee the power to close guilty companies. This is an outstanding improvement in dealing with offending firms.
In your opinion, do you think this punishment is enough to prevent firms from violating environmental law?
I think that punishment is just one of many solutions that prevent businesses from violating environmental law. The department will collaborate with media organizations to announce the names of offending firms and the products of repeatedly offending firms and call on the community to boycott their products.
Will the announcement of polluting firms' products affect their production and trademark?
This method isn't common to our country but it has been applied widely in developed countries. People always look for the sign that proves the products are made by green firms before buying them. They never buy any products from polluting firms. This will make the firms consciously abide environmental law.
The announcement of the polluting firms' products will affect their prestige. However, we can't let these firms damage our environment any more. The money that these firms pay to the national budget doesn't cover the cost for improving the environment. There's no reason for us to sacrifice our environment.
But it's impossible for people to recognize polluting or green products?
The authorities haven't popularized the guidelines to citizens. This year, the department will spread the word by television, newspaper or fliers.
Moreover, the department has ordered firms to publicize their environmental protection commitments that will help consumers keep track of environmental protection. The citizen is the main enforcer for environmental protection.