Networked computers will be installed in 99 libraries, schools, and cultural centers attached to post offices at rural communes in Thai Nguyen, Nghe An, and Tra Vinh provinces to help farmers access the Internet and obtain information, the Ministry of Information and Communications announced April 20.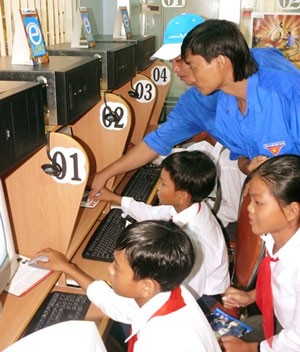 Children in Ca Mau Province are instructed in using computers. Farmers in Thai Nguyen, Nghe An, and Tra Vinh provinces are set to get networked computers to access information like prices of farm produce (Photo:baoanhdatmui)
It is part of a pilot project to enhance people's ability to use computers and access public Internet in Vietnam which has been provided US$2,149,100 by the Bill & Melinda Gates Foundation.
The public utility telecom service fund and telecom businesses have contributed $500,000.
Microsoft has also given free software for the project.
Each post office cultural center will have five computers, a printer, and other equipment. An employee will manage the place and help farmers use the Internet.
At libraries, schools, and hospitals, there may be as many as 20 computers.