Prime Minister Nguyen Tan Dung has approved a project to inspect, assess and map landslide prone mountainous areas in 37 provinces of Vietnam, to be conducted from this year until 2020.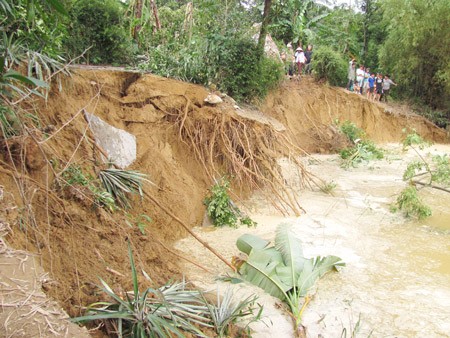 Landslide along the Huong River bank in Huong Tra District in the central province of Thua Thien-Hue (Photo: SGGP)
Of the 37 provinces, 17 are in the northern mountainous and midland areas, 13 in the central mountainous region, five in the Central Highlands and two in the southeastern region.
Areas susceptible to landslides will be mapped to serve socio-economic development and resettlement plans, and improve forecasting ability for residents to take timely action and evacuate in event of natural disasters.
The project aims to collect, analyse and sort documents on terrains, geology, hydro-meteorology, flora and fauna composition and the status quo of land usage, landslides and flash floods.
Besides, this investigation will determine reasons for the landslides.
Observation stations will be set up to foresee landslides and create warnings. Ten pilot stations will be first set up in areas that are most vulnerable and with highest population density.